How to Free Download Dailymotion Videos
If you are looking for a good video site to get some useful tips for your life, Dailymotion is a not bad option other than YouTube. Similar to YouTube, Dailymotion allows you to upload your own videos, watch the latest and greatest news, highest quality music, television shows, as well as amateur content such as video blogs. You can easily find what you want from its quality library.
Sometimes you may plan on downloading Dailymotion videos to watch later on. Because by doing so, whether you're trying to recall ingredients, learn some moves, or simply rewatch something of interest to you, you'll be happy to have your saved videos handy, no need to cost some data for searching them on the site again. Fortunately, there is a fairly easy way around this. All you need is to install and use a free Dailymotion video downloader - VidiCable. Let's dive right into it!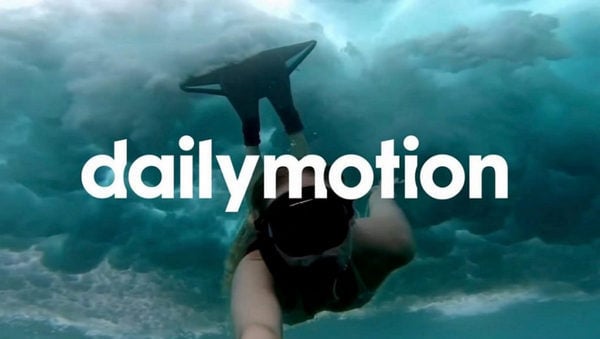 ---
Tool Required: Free Dailymotion Downloader
VidiCable is a professional streaming video recorder or downloader, specially designed to help you record files from Twitter, YouTube, Vimeo, TikTok, Dailymotion and more with no charge. All the videos will be saved on your Windows or Mac computer in MP4 or MKV, which makes it simple for you to share your favorite videos with your family and friends. What's more, equipped with the most creative recording core, VidiCable also focuses on helping users save videos from Netflix, Amazon, Disney+, Hulu, HBO Max, Discovery+, and Paramount+ with HD quality, multilingual audio tracks and subtitle tracks retained. By using this smart tool, you can download all your favorite Dailymotion videos to your PC and watch them anywhere anytime without caring about the network.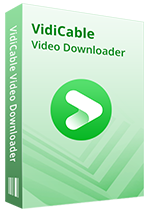 Features of VidiCable Dailymotion Downloader:
Free record videos from Twitter, YouTube, Vimeo, TikTok, Dailymotion and more.

Upgrade to record shows and movies from Netflix, Amazon Prime, Disney+, Hulu, HBO Max, Discovery+, Paramount+.

Save your favorite videos in MP4 or MKV format.

Preserve multilingual audio tracks and subtitles.

Safe and clean, no ads or any plugins.
Download Win
Download Mac
---
Tutorial: How to Download Dailymotion Videos with VidiCable
It is a pretty easy process to download a video for Dailymotion. All you need to do is follow these simple steps.
Step 1

Select Website

At the first use, please launch VidiCable, then the website list will pop up allowing you to select the website you want to download videos from, here please select Dailymotion. You can enter the keyword to find the site.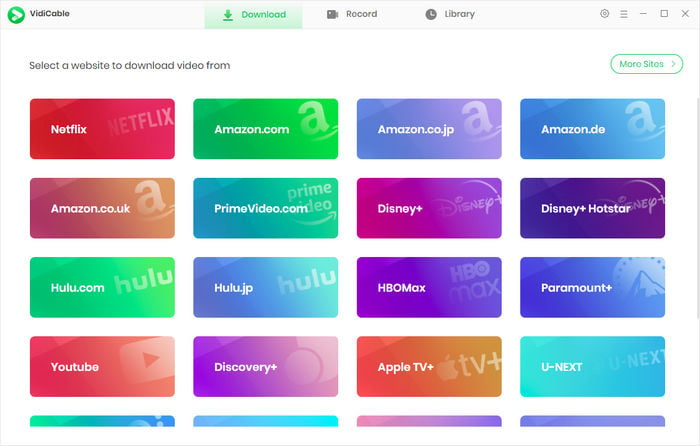 Step 2

Select Video Quality

If you are trying to record videos from some paid streaming site like Netflix, you are required to log into your Netflix account. For downloading Dailymotion videos, please directly go to the Settings window by hitting the Gear icon to select the video quality, change the output path, video format, and enable the option for hardware acceleration.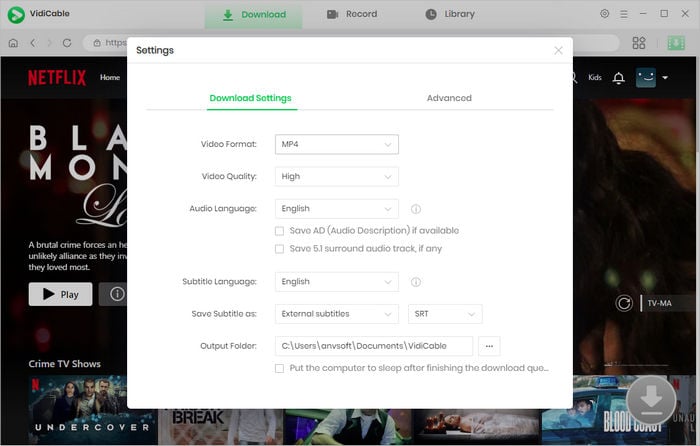 Step 3

Search for Videos

VidiCable only enables you to add and search videos from YouTube, Netflix, Amazon, Disney+, Hulu, HBO Max by using keywords. For downloading videos from the other sites including Dailymotion, please navigate to Dailymotion.com, find the video you want to download and copy & paste its URL from the address bar to VidiCable's search box.

Note: The site that you want to download the video from must match with what you've selected in Step 1.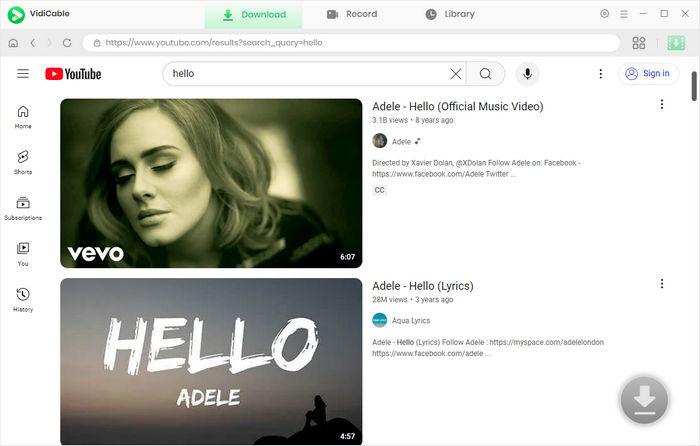 Step 4

Download Videos

The software will retrieve information about the video and give you a choice of downloads soon. Please note that, the quality will vary depending on that of the original video. If the video was recorded and uploaded in standard definition, it won't be available to download in high definition. Now simply click the Download icon to start your downloading.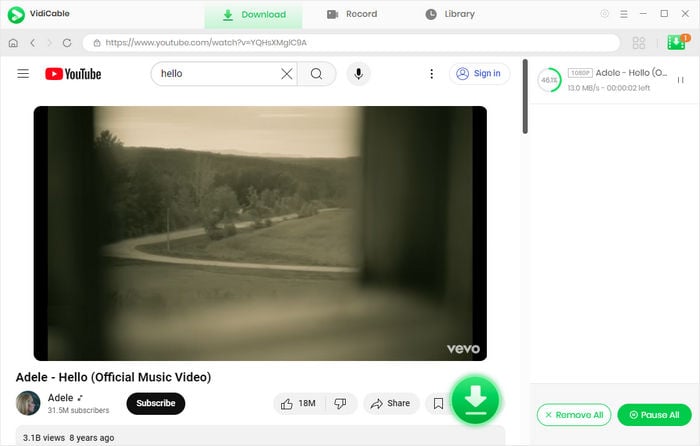 It will take some minutes to download videos, which depends on the network and your computer configuration. After downloading, you can go to the Library window to find the downloaded files and free watch them on any device as you prefer.
VidiCable does a great job of downloading Dailymotion videos free of charge. Plus, if you want to record or save videos from Twitter, YouTube, TikTok, Dailymotion and more on computers for offline playback, you can also try VidiCable. It is a totally free downloader or recorder for these sites. Simply give it a try.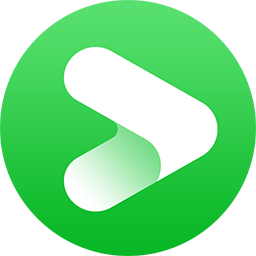 Get your favorite streaming movies& shows recorded right now!
Free Trial
Free Trial
Categories
Got another minute? Check out: