How to Download Netflix Video on Computer
[Updated] 22 November, 2023
Netflix is well-known for its extensive selection of popular shows and films, including hits like 365 Days, Stranger Things, and Squid Game. Whether you're on a long trip or stuck on an airplane, the platform offers a great way to pass the time. With ad-supported subscriptions, you can now easily download and stream your favorite content on at least two supported devices, even without internet access. In this article, we'll provide a comprehensive guide on downloading Netflix videos to your PC, so you can enjoy them anytime and anywhere.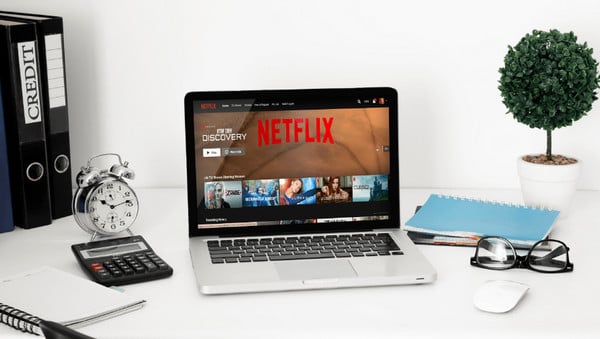 To download Netflix videos on PC, you need:
1. A valid subscription: Netflix now offers three subscription plans tailored to suit different needs: Standard with ads ($6.99/month), Standard ($15.49/month), and Premium ($22.99/month). The good news is that all of these plans allow you to download videos for offline viewing.
2. Supported Devices: Currently, Netflix currently allows users to download videos on mobile devices, Amazon Fire tablet, Google Chromebook as well as Windows 10 and 11 computers.
3. Internet connection: You must have a stable and fast internet connection to download Netflix videos. Test your network speed on Fast.com.
4. Updated Netflix app: Make sure you have the latest version of the Netflix app installed on your device.
5. Patience: Depending on the size of the video, downloading may take several minutes or even hours. So, you need to be patient while the video is downloading.
If you have all of the above requirements, you can easily download Netflix videos on your device and watch them offline at any time.
Step 1 Download the latest Netflix app from Microsoft Store.
Step 2 Open the Netflix app on your PC and sign in to your account using your credentials.
Step 3 Use the search or browse function within the app to find the movie you want to download. Once you've chosen a movie, click on it to open the details page.
Step 4 Click on the download icon to start downloading the movie to your PC. You may be prompted to choose the video quality (standard or high) before initiating the download.
Note: Not all movies and shows on Netflix are available for download. Look for the download icon (a downward-facing arrow) next to the movie title. If the download option is available, you can proceed to the next step.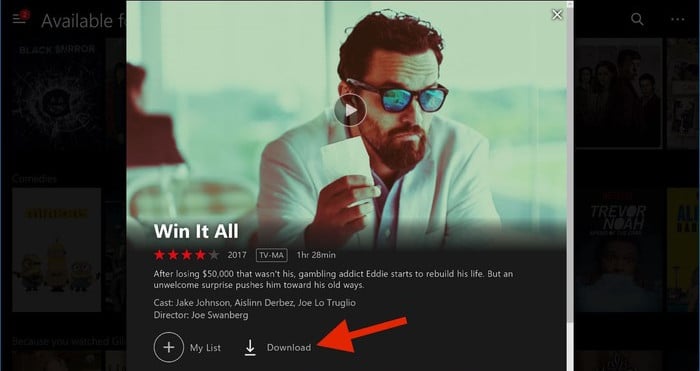 Step 5 Once the download is complete, you can access your downloaded movies by clicking on the "My Downloads" tab within the Netflix app. Here, you'll find all the movies and shows you've downloaded for offline viewing.
As of now, Netflix does not officially support downloading content for offline viewing on Mac computers.
However, there are third-party applications and services that allow Netflix content to be downloaded on Mac computers, for example, VidiCable, FlixiCam Netflix Video Downloader, etc. Among them, VidiCable is an all-in-one downloader, that supports downloading content from many streaming sites such as Netflix, Amazon, Hulu and more. It is fully compatible with macOS. You can refer to this guide to download your favorite content on Mac: How to Download Netflix Video on Mac.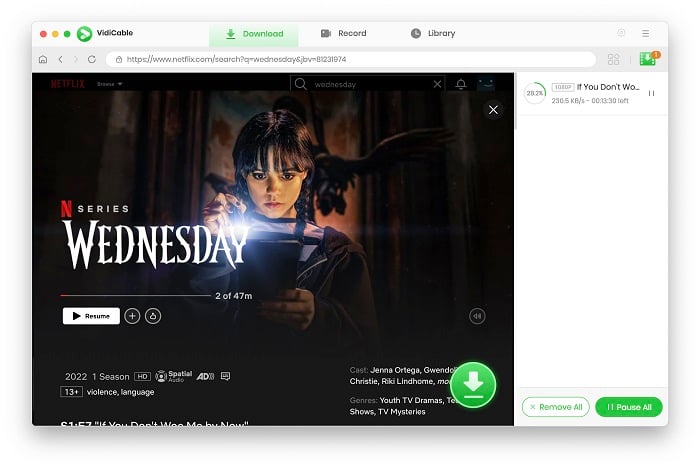 There could be several reasons why you might not be able to download some titles from Netflix. Here are a few possible reasons:
Licensing Restrictions: Some movies and TV shows on Netflix may not have download options due to licensing restrictions.
Availability: Not all titles are available for download. Only certain titles can be downloaded for offline viewing.
Region Restrictions: Some titles may not be available for download in certain regions due to licensing agreements.
Device Compatibility: Certain devices may not support the Netflix download feature or may not meet the minimum requirements for downloading content.
If you encounter any error messages while trying to download content from Netflix like 'Download Failed', 'There was a problem with this download', here are some troubleshooting steps you can try:
#1 Check Internet Connection: Ensure that you have a stable internet connection before attempting to download content.
#2 Restart the App: Sometimes restarting the Netflix app can help resolve download issues.
#3 Clear Cache: Clearing the cache of the Netflix app may correct any download-related issues. This option can be found within the "App Settings" or "Storage" section of your device's settings.
#4 Update the App: Make sure you have the latest version of the Netflix app installed on your device.
#5 Delete Downloaded Content: If you're experiencing issues with specific downloads, try deleting the content and re-downloading it.
Unfortunately, it is not possible to move downloaded content from Netflix onto other drives. When you download movies or TV shows from Netflix, they are automatically stored in a specific location determined by the Netflix app. The app does not offer a built-in feature to relocate this downloaded content to a different drive. If you want to change the download path, you are required to change the installation path of Netflix app.
Additionally, downloaded content from Netflix can only be watched on the device on which it was downloaded. This means that you cannot transfer downloaded content to another device or watch it on a different device than the one on which it was originally downloaded. If you want to get rid of these device limits, then try VidiCable All-in-One Downloader. As mentioned above, this tool can help you download any content from Netflix in MP4 or MKV format, meaning that you are free to transfer it to other devices. Navigate to Part 6, there we will show you how to use VidiCable.
Downloaded content from Netflix does indeed have an expiration date. When you download a movie or TV show from Netflix, it's important to know that the downloaded content has a limited viewing period. The expiration period varies depending on the specific title and licensing agreements. In general, downloaded content can be kept for up to 7 days, and once you start watching a downloaded title, it will remain accessible for 48 hours.
Each downloaded title on Netflix is accompanied by an expiration timer, indicating the remaining time before the content expires. Once the timer runs out, the downloaded content will no longer be available for offline viewing. However, it's worth noting that some titles can be renewed for further viewing. If you wish to watch a title again, you can delete it from your downloads and then re-download it to reset the expiration timer.
How to Keep Netflix Downloads on Your Computer Forever?
If you want to keep your download forever, never miss out VidiCable. It is an excellent streaming video downloader that supports downloading content from a wide range of video sites, including Netflix. The program is also frequently updated to add support for additional sites. One of the key benefits of VidiCable is its speed. The program is designed to work quickly and efficiently, allowing you to download your favorite content in no time. The process of downloading content using VidiCable is also simple and straightforward: just find the content you want to download and click the download button.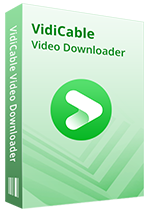 Features of VidiCable Video Recorder:
Record video from many sites.

Get video stored on local drive at 5X faster speed than its competitors.

Bulit-in player enables you to play content within the app.

Preserve multilingual audio tracks and subtitles.

Free updates and timely support.
Download Win
Download Mac
Step 1 Run it on your devices, you will be asked to select website first. Just select Netflix from the supported list.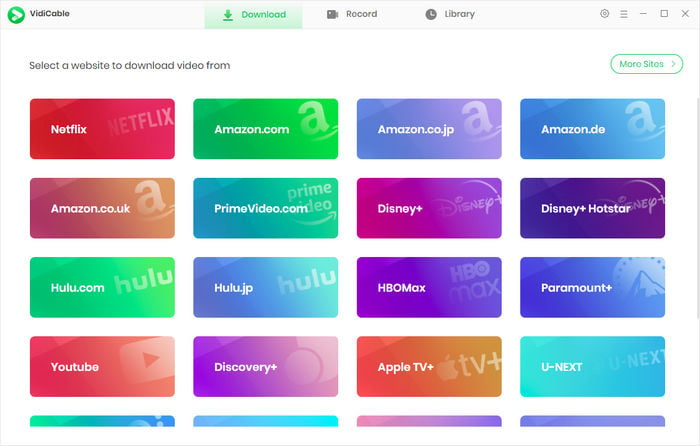 Step 2 Log in to your account and access your Netflix library. Using the search function to find any video you want to download.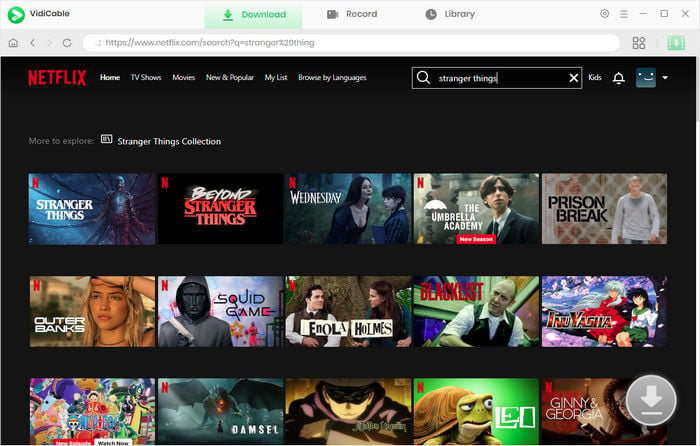 Step 3 Click the video to access its details page. Then tap on the big Green Download icon to choose the output settings. Here you can select video quality, subtitles, file size, and more.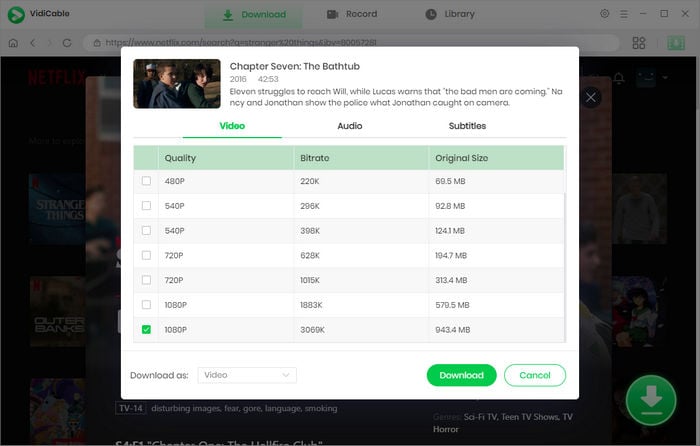 Step 4 Once finised, now all you need to do is hit the "Download" button. Simply wait for a while, you will get your favorite content downloaded to your PC in MP4 or MKV format. All those downloads are pure, you can keep them on your computer and move them to other devices for sharing or backup.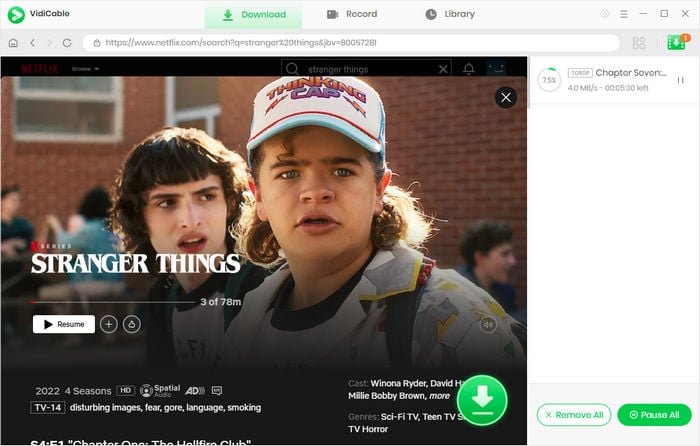 We have provided you with comprehensive information on how to download Netflix content on your PC. By following the steps outlined, you can begin enjoying your favorite shows and movies with freedom and convenience. If you're looking to move or share your downloaded content, we recommend considering VidiCable, an all-in-one downloader. VidiCable is a versatile tool that allows you to download content from various sources, including Netflix. With its user-friendly interface and wide compatibility, VidiCable can help you manage and transfer your downloaded Netflix content seamlessly.
Got another minute? Check out: