How to Download HBO Max Videos in MP4
Max has replaced HBO Max. This enhanced platform will showcase iconic programming, including all the beloved HBO content such as Game of Thrones. It offers an exceptional way to elevate your leisure time. By subscribing to this service, you gain access to everything available in HBO's extensive catalog of programming. Additionally, if you anticipate being in a location without reliable internet access, you can download your favorite titles to your smartphone or tablet for offline viewing.
However, there are some important restrictions and considerations to note before downloading.
For the Max ad-free account, a maximum of 30 titles can be downloaded at any given time, while the Ultimate Ad-Free account allows for 100 downloads.
Any unwatched downloads automatically expire after 30 days, and once you start watching, you have 48 hours to finish.
Downloaded content will expire when the respective title leaves the Max platform.
If you wish to retain your favorite content indefinitely or view it on multiple devices, downloading HBO Max videos in MP4 format is an excellent option. Keep reading for detailed instructions on how to download HBO Max movies and shows in MP4 format.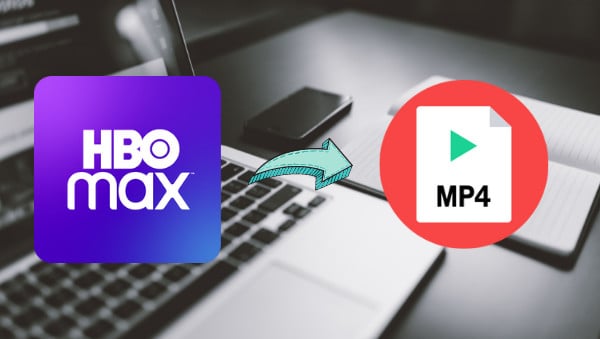 Max, owned by Warner Bros. Discovery, is the rebranded version of HBO Max. What sets Max apart is its ability to combine content from a wide array of sources, including HBO, Warner Bros., DC Comics, Discovery, CNN, the CW, and more. This means that subscribers have access to an extensive collection of TV shows and movies, encompassing Max originals and titles from various networks.
Existing subscribers of HBO Max are automatically migrated to Max without incurring any extra costs. Also, users who have HBO through their cable or satellite TV package may have access to Max. Although some of the Discovery Plus content is available on Max, the platform will continue to exist independently for the time being.
Max offers three pricing tiers which include an ad-supported plan, an ad-free plan, and an ultimate ad-free plan with 4K UHD streaming capabilities. The platform is accessible on various devices such as phones, tablets, computers, TVs, streaming players, set-top boxes, and game consoles.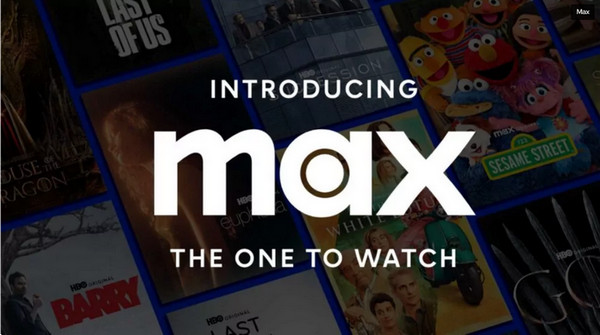 VidiCable Video Downloader is a powerful and versatile tool that enables users to download HBO Max/Max videos in either MP4 or MKV format on both Windows and Mac computers. This efficient downloader also allows you to choose from multiple audio tracks and subtitle options based on your region, catering to your specific language needs.
In addition to downloading Max(HBO) videos, VidiCable also supports downloading videos from Facebook, Twitter, YouTube, Vimeo, TikTok, Dailymotion, XboxClips, CBS, and more for free. Furthermore, with a small payment, you can easily save videos from popular streaming platforms such as Netflix, Amazon, Disney+, Hulu, Discovery+, Paramount+, and many others directly on your device.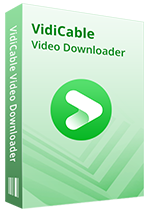 Features of VidiCable HBO Max Downloader:
Record and save Max (HBO) content in MP4 format.

Offer supports for other video sites like Netflix.

Keep video metadata for easily management.

Save subtitles as SRT format.

Fully compatible with Windows and Mac computers.
Download Win
Download Mac
---
Tutorial: How to Download Max (HBO) Videos with VidiCable
Downloading HBO Max videos as MP4 files using VidiCable is a simple process. Follow the detailed steps below:
Step 1

Select Website

When you launch VidiCable for the first time, you will be prompted to select a website. Choose Max from the list of supported websites and log into your account. This step is necessary for the subsequent download process.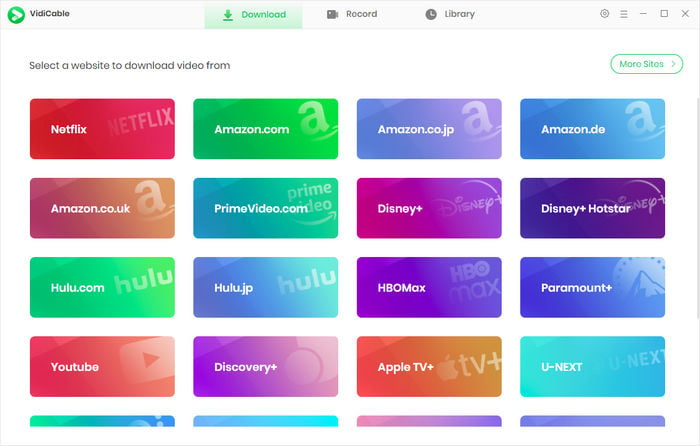 Step 2

Adjust Download Parameters

To make necessary adjustments to the app's settings, click on the clock-like Settings button located in the upper-right corner of the program interface. A window will appear with several sections. By default, the MP4 format is selected, but you can double-check and change it if needed.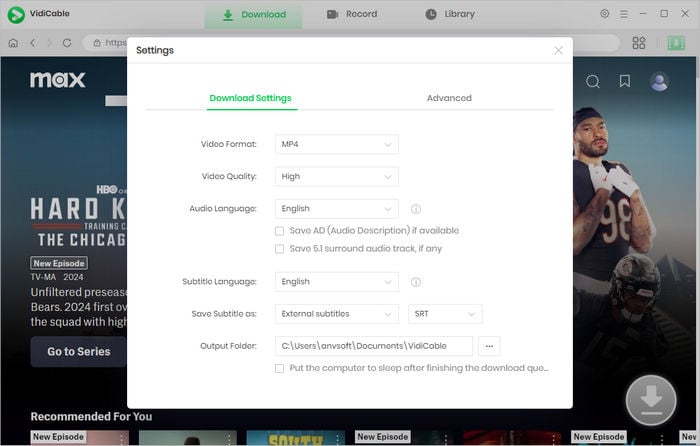 Step 3

Find Max Videos

VidiCable Video Downloader comes with a built-in Max browser that allows you to navigate the platform just like you would on the Max website. To find the video you want to download, simply type its title in the search bar.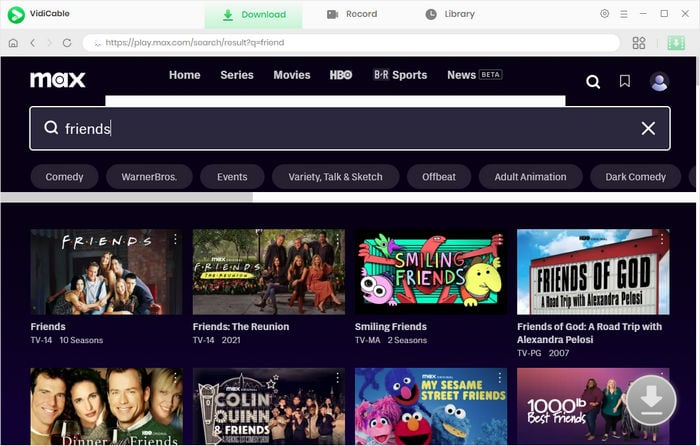 Step 4

Select More Specific Settings

Click on the video you wish to download to access its playback page. Then you can see the Download icon located at the bottom-right corner is activated.

For downloading HBO Max series, click the Download icon and select the desired season and episode. Then, choose "Advanced Download" to customize the output quality, audio tracks, and other settings. If you're downloading a movie, click the green download icon to open the window.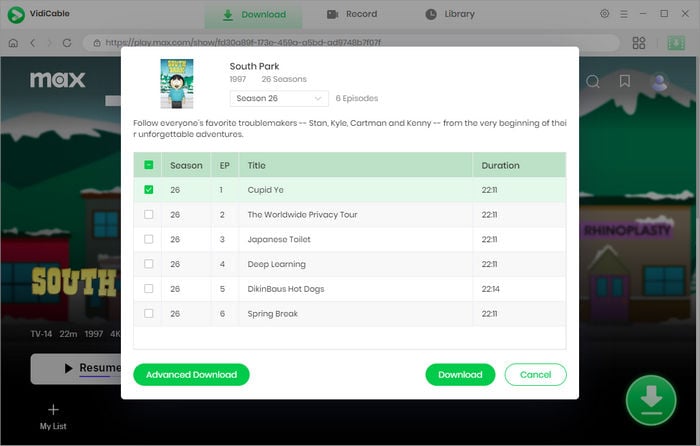 Step 5

Download Videos to MP4

Finally, click the "Download" button to start saving your desired content in MP4 format. Since MP4 is widely accepted by most devices, you can now enjoy your downloaded videos on various devices.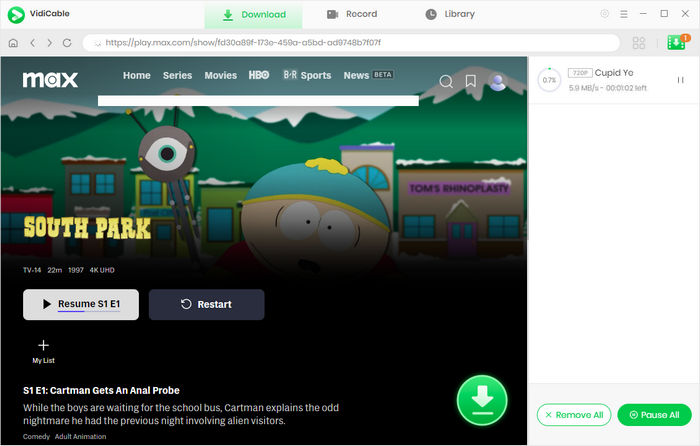 Q1. Can I download Max (HBO) videos in other formats besides MP4?
A: Yes, VidiCable Video Downloader supports multiple output formats, including MP4 and MKV. You can choose the desired format based on your preferences and device compatibility.
Q2. Are subtitles and audio tracks preserved when downloading HBO Max videos?
A: Yes, VidiCable allows you to select and preserve subtitles and audio tracks during the download process. You can choose the language and subtitle options that best suit your needs.
Q3. Can I download entire seasons or specific episodes of HBO Max series?
A: Absolutely! VidiCable Video Downloader provides the option to download entire seasons or specific episodes of HBO Max series. Simply click on the Download icon and select the desired season and episode.
Q4. Will the downloaded Max (HBO) videos be playable on all devices?
A: The downloaded videos in MP4 format should be compatible with most devices, including smartphones, tablets, computers, and smart TVs. However, it's always recommended to check the device's supported video formats and codecs to ensure playback compatibility.
Final Words
While you pay for Max's cheaper With Ads plan, you can still download content for offline watching by using VidiCable. It's a nice app that does a great job in downloading Max (HBO) videos in MP4 format. Once downloaded, all the downloads will be stored on your devices forever. In case you need to get videos downloaded from other sites, VidiCable can also give you a hand.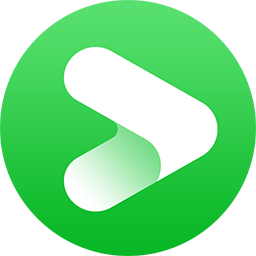 Get your favorite streaming movies& shows recorded right now!
Free Trial
Free Trial
Categories
Got another minute? Check out:
Download videos from HBO Max as local files for offline watching without limits.