How to Move Paramount Plus Movie to USB Drive
It is becoming more and more common for people to save video files on their computers, but as we build bigger and bigger libraries of these video files, the potential for taking up too much space in our hard drives grows. A great solution to this problem is to move the videos onto a USB drive. Not only does this eliminate the chances of running out of hard drive space, but it allows us to take those videos with us or share them easily.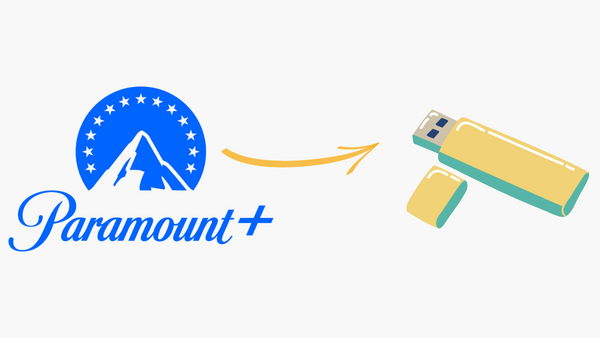 However, you should pay more attention to the fact that not all video files can be transferable. Most streaming video services tied their digital content to their own apps with technology, and Paramount Plus is no exception. Although Paramount Plus enables its Premium subscribers to download movies and shows for offline watching, all the downloads are playable within its app only. You cannot transfer them to USB drive or other devices and have to download them again after changing devices. It is pretty time-consuming to download all collections again for film fans.
Here comes the question: is there any way to get rid of this dilemma? Absolutely, the basic way is to download Paramount Plus in MP4 format by using a professional Paramount Plus downloader, after downloading, all the video will be transferrable across devices. Read on to get the most powerful streaming video downloader and follow the guide to move your favorite Paramount Plus movies to USB.
VidiCable Paramount Plus Video Downloader is an innovative new application that allows users to download videos from many popular streaming sites such as YouTube, Paramount Plus and Netflix. With VidiCable, users can select the resolution they would like, how many videos they want to download, or even perform advanced outputs on their downloads. All the downloads will be saved in MP4 or MKV format with multilingual audio tracks, subtitles and HD quality kept.
It offers simple user controls and easy navigation which makes it ideal for both beginning and advanced video editors alike. Additionally, with VidiCable's efficient technology, all downloads are completed quickly and without requiring any additional hardware or software. VidiCable is quickly becoming the go-to choice for downloading videos from streaming sites due to its intuitive design and effortless usability.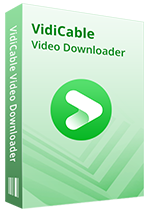 Features of VidiCable Video Downloader:
Free record videos from Twitter, YouTube, Vimeo, TikTok, Dailymotion and more.

Upgrade to record shows and movies from Netflix, Amazon Prime, Disney+, Hulu, HBO Max, Discovery+, Paramount+.

Save your favorite videos in MP4 or MKV format.

Preserve multilingual audio tracks and subtitles.

Safe and clean, no ads or any plugins.
Download Win
Download Mac
The following is a detailed guide about how to download Paramount Plus video with VidiCable and move them to USB drive, all you need is to download VidiCable and follow the steps.
Step 1

Select Website and Log in to account

Launch VidiCable and choose the website you want in the popup interface. Then, type anything into the search bar and there will be a pop-up window prompting you to log in to your account of Paramount Plus. After that, if you want to change the website, you can open the setting Windows and then click "Choose" on the Account Settings tab.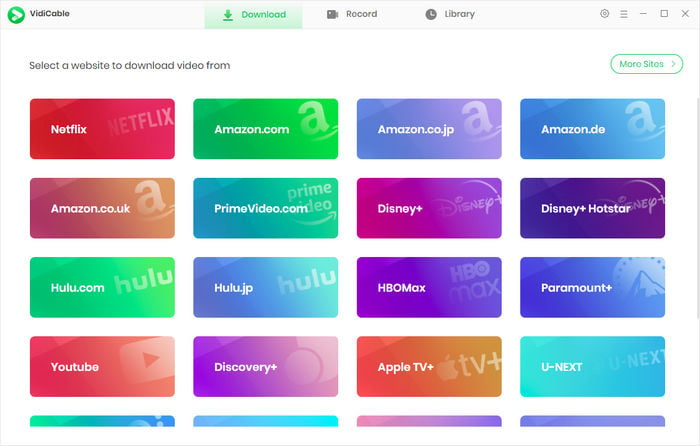 Step 2

Customize Output Settings

Next, you can choose the output settings such as quality, audio type, language, etc. in the Setting window. The H.265 option in the Advanced settings tab can help you save videos in smaller file sizes, but it might not be supported by some devices. In such cases, H.264 is also a great choice.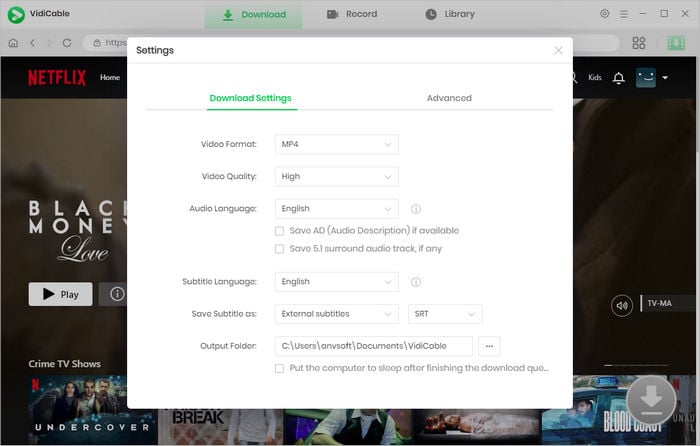 Step 3

Add Video

You can search for the video by either entering the name or copying and pasting the link of the video into the search box.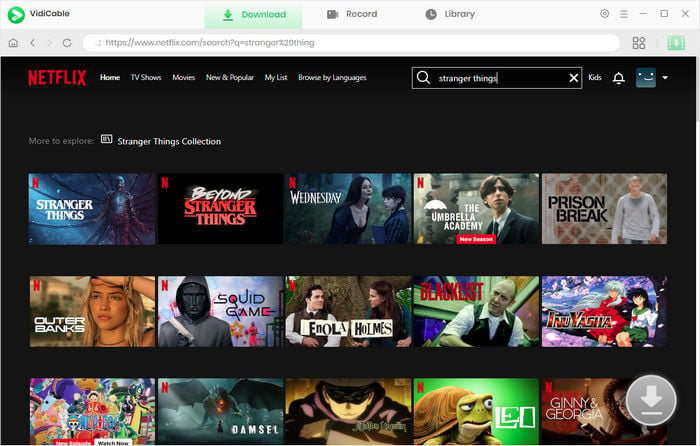 Step 4

Select Advanced Download

Before downloading, you can customize the quality, subtitle language, and audio track in the Advanced Download window.

For downloading series, you need to click the download icon to access the window and choose episode and season, then hit the "Advanced Download" button on the bottom left of the pop-up window and choose specific video quality options, audio tracks and subtitles. If you are trying to download movies, you need to click the icon next to the download icon to access the Advanced Download window.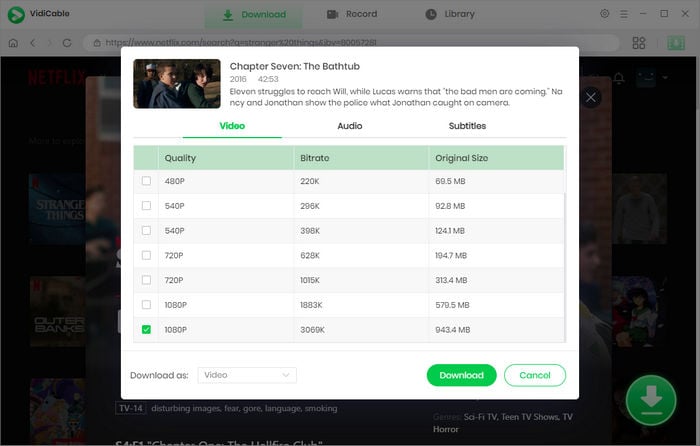 Step 5

Download Paramount Plus Movies

Now, click the download icon to download the added video, and it will be added to the output folder you set before. You can check the downloaded videos in the Library.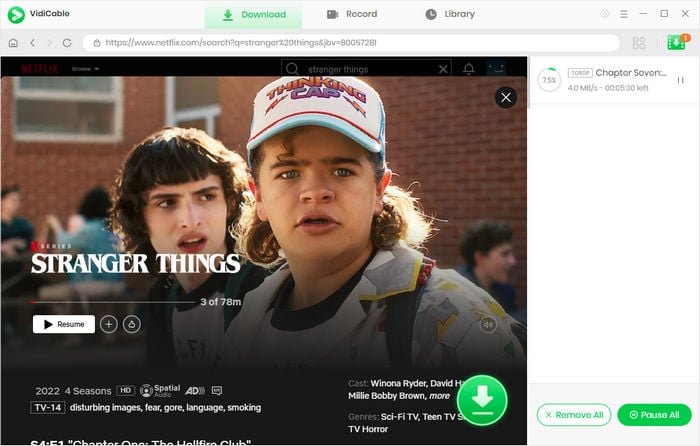 Step 6

Move Paramount Plus Downloads to USB Drive

Please make sure your USB drive is large enough in capacity to hold all the files you are looking to copy over. Then, it's as simple as plugging the USB drive into an open port on your computer, selecting what content you want transferred, specifying the destination, and hitting "Copy." With just a few clicks you're all set!

As you can see, moving a Paramount Plus movie to a USB drive is incredibly simple and straightforward. With the help of VidiCable and minimal effort, you can quickly transfer your favorite movies to easily store or watch later. VidiCable supports over 15 sites and keeps adding more. If you want to download videos from other sites than Paramount Plus, it is also a nice option. It is worth mentioning that using VidiCable to download videos from YouTube, Facebook, Twitter, TikTok, and Dailymotion is free.
Got another minute? Check out:
Download Paramount Plus video to MKV format and enjoy them offline.
Download videos from Paramount+ in MP4 format and save them forever for offline watching.