How to Download Paramount Plus Movies in MKV Format
Paramount Video is one of the industry leaders in terms of providing high-quality streaming video services. As known, the big downside of it is that the download capability is only available on mobile devices. Furthermore, the downloads are playable merely on the device that you download them on. If you are looking to save Paramount Plus movies in MKV format and move them to other devices for offline viewing, then this guide is for you.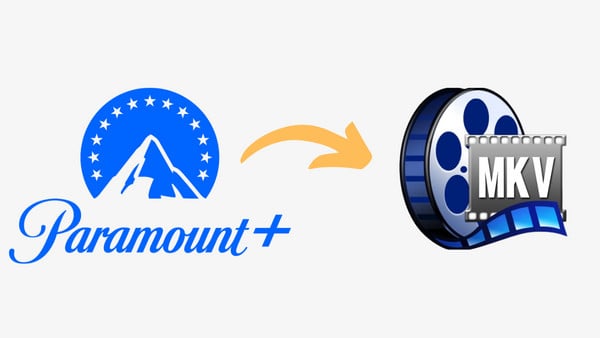 MKV (Matroska) is a multimedia container format that can store multiple video, audio, subtitle, and other data streams in a single file. There are several reasons why you might want to download videos in MKV format:
Flexibility: MKV is a highly flexible format that supports a wide range of codecs and compression methods, which means you can easily store high-quality video and audio content without taking up too much space.
Multiple Audio and Subtitle Tracks: MKV allows you to store multiple audio and subtitle tracks in the same file, making it easier to switch between different languages or versions of the same video.
High-Quality Video: MKV supports high-quality video formats such as H.264 and HEVC, which means you can download videos in high definition and even 4K resolution.
Compatibility: MKV is compatible with most media players and operating systems, including Windows, Mac, and Linux.
Customization: MKV offers several customization options, such as chapter markers, menus, and metadata, allowing you to create a more personalized viewing experience.
Overall, MKV is an excellent choice for downloading and storing high-quality video content, especially if you want flexibility, multiple audio and subtitle tracks, and compatibility with various devices and media players.
Befor we get started, the first step is to find a tool that can help us out. If you're an avid Watcher of Paramount plus videos, then VidiCable is a must-have for your increasing entertainment library. This easy-to-use downloader enables you to quickly and effortlessly convert Paramount plus videos into the MKV file format, which means you can watch them anytime from any device. Apart from downloading content from Paramount Plus, this smart tool also supports downloading movies and shows from Netflix, Amazon, Disney+, YouTube, and more.
By using it, you can also save videos in MP4 format, and keep HD quality as well as multilingual audio tracks, and subtitles. Whether you're watching on your laptop or mobile phone, or even playing them on your TV screen with a Chromecast or DVD player, the options are endless with VidiCable. Plus, with its user-friendly interface, downloading videos has never been easier - so it's no surprise that this is one of the most popular video downloaders on the market.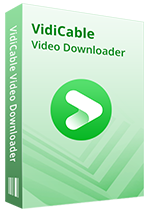 Features of VidiCable Video Downloader:
Free record videos from Twitter, YouTube, Vimeo, TikTok, Dailymotion and more.

Upgrade to record shows and movies from Netflix, Amazon Prime, Disney+, Hulu, HBO Max, Discovery+, Paramount+.

Save your favorite videos in MP4 or MKV format.

Preserve multilingual audio tracks and subtitles.

Safe and clean, no ads or any plugins.
Download Win
Download Mac
The following is a detailed guide about how to download Paramount Plus video in MKV format with VidiCable, all you need is to download VidiCable and follow the steps.
Step 1

Select Website and Log in to account

Run VidiCable on your computer and choose the website. Then, you can type anything into the search bar and there will be a pop-up window prompting you to log in to your account of Paramount Plus. After that, if you want to change the website, you can open the setting Windows and then click "Choose" on the Account Settings tab.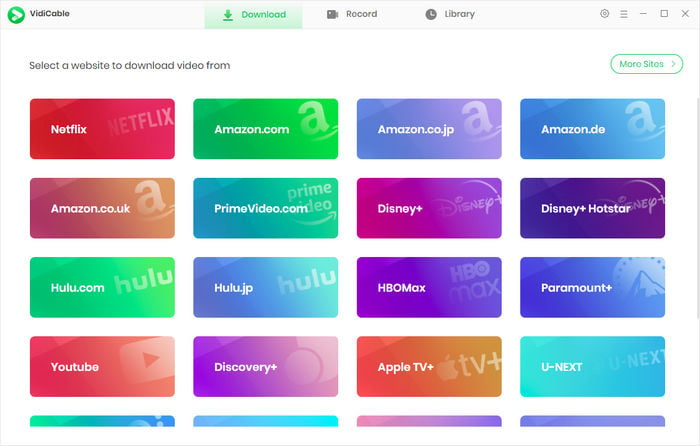 Step 2

Customize Output Settings

Next, you can adjust the output settings in the setting window, including quality, audio type, language, etc. Here you can select MKV as the output format. The H.265 option in the Advanced settings tab can help you save videos in smaller file sizes, but it might not be supported by some devices. In such cases, H.264 is also a great choice.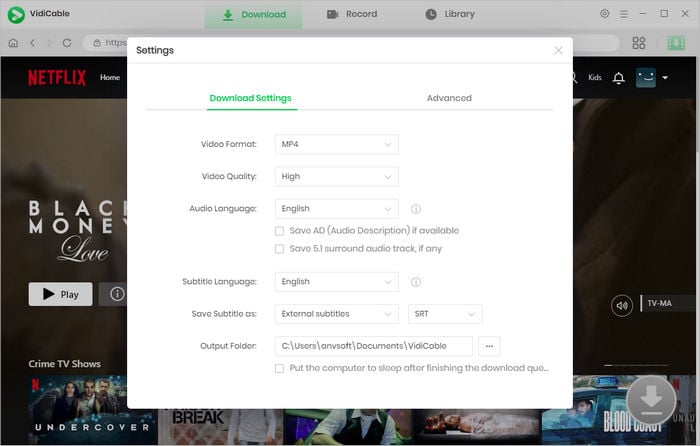 Step 3

Add Video

Now, it's time to search for the video by either entering the name or copying and pasting the link of the video into the search box.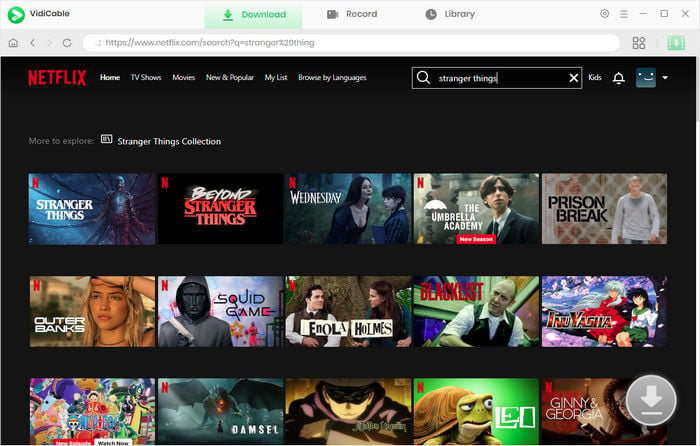 Step 4

Select Advanced Download

Before downloading, you can customize the quality, subtitle language, and audio track in the Advanced Download window.

For downloading series, you need to click the download icon to access the window and choose episode and season, then hit the "Advanced Download" button on the bottom left of the pop-up window and choose specific video quality options, audio tracks and subtitles. For downloading movies, simply click the icon next to the download icon to access the Advanced Download window.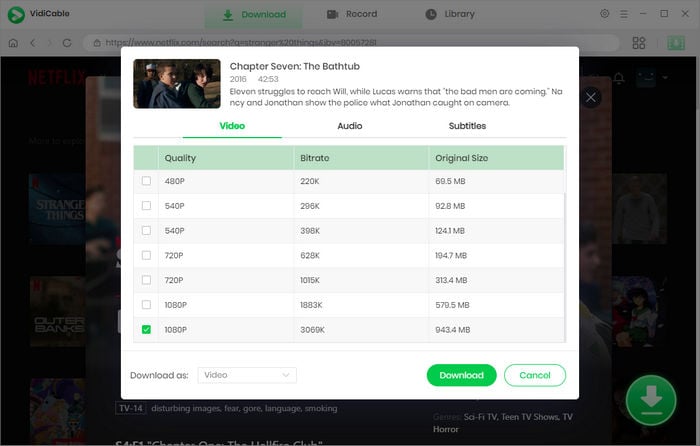 Step 5

Download Paramount Plus Movies

The final step is to hit the download icon to download the added video, and it will be added to the output folder you set before. You can check the downloaded videos in the Library.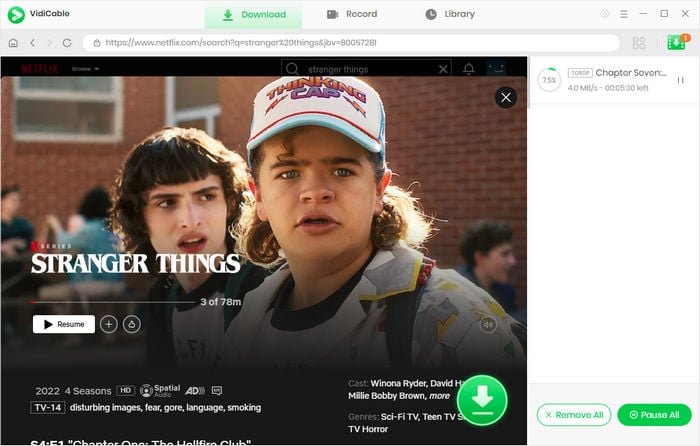 Have you always wanted to download your favorite Paramount plus videos but feel limited by the file format options? If so, then you'll be delighted to know that we've introduced an incredibly easy way to download Paramount plus videos as MKV files! With VidiCable, it can be easier than ever to keep these special moments with you. Not only that, but MKV is a perfect format for making DVDs or other digital copies of your favorite media. Gone are the days of worrying about incompatibility issues—now you can move and play your favorite content anywhere anytime.
Got another minute? Check out:
All tips about downloading and watching Paramount Plus content offline.
Download videos from Paramount+ in MP4 format and save them forever for offline watching.