How to Play Disney+ Videos on TV
Disney+ is an online streaming video-on-demand platform launched by Disney, and it offers about 7,000 TV episodes and 500 movies such as The Lion King, Frozen, and Zootopia. Movies and TV series produced by Walt Disney Studios are available on the platform, including Disney and Pixar animated film series, Disney live-action film series, Marvel Cinematic Universe films, Disney nature documentaries, etc.
Lots of people growing up watching Disney videos and will keep watching its videos or playing its videos for children. Also, most Disney videos are focused on family-oriented entertainment (without any restricted content). Maybe that's the reason why Disney+ is so appealing to families and can always gather them together to enjoy videos.
Phones or tablets are too small to watch videos for a family, therefore people tend to watch Disney videos on TV. However, Disney+ is limited to some specific TV devices, and lots of old TVs cannot play Disney+ videos. So, is there any way to play Disney+ Videos on every TV other than those specific TVs?
Luckily, there is. VidiCable Disney+ Video Downloader is dedicated to solving problems like this. It can help download Disney+ videos in their original quality and keep the subtitles and audio tracks. Downloaded videos can be played on the TV by screencasting or through USB storage. Now, let's see exactly how to play Disney+ videos on TV.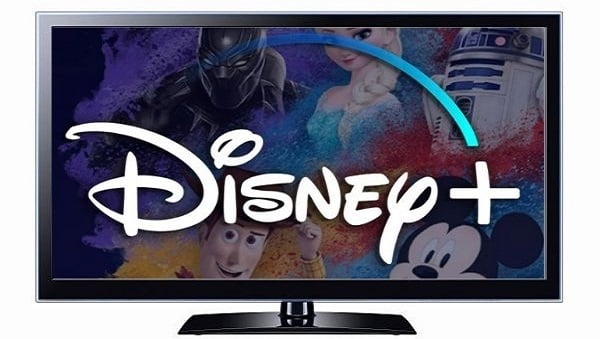 ---
Tool Required: VidiCable Disney+ Downloader
VidiCable Video Downloader is a professional program that helps to download videos from different platforms such as Disney+, Netflix, Amazon, Hulu, HBO Max, Discovery+, Paramount+, YouTube, TikTok, etc. It is designed as concise and user-friendly and can be used on both Windows and Mac systems. Downloaded Disney+ videos can keep multilingual audio tracks and subtitles. Due to the restriction of Disney+, the quality of downloaded Disney videos is up to 720P only.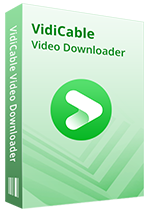 Features of VidiCable Disney+ Downloader:
Donwload videos from Twitter, YouTube, Vimeo, TikTok, Dailymotion, etc. for free.

Upgrade to save shows and movies from Netflix, Amazon Prime, Disney+, Hulu, HBO Max, Discovery+, Paramount+.

Record your interested videos in MP4 or MKV format.

Keep multilingual audio tracks and subtitles.

Safe and clean, without any ads or plugins.
Download Win
Download Mac
---
Tutorial: How to Play Disney+ Videos on TV with VidiCable
Step 1

Select Disney+ Website

Launch VidiCable Video Downloader, and there will be a pop-up window showing different websites for you to select. You can find Disney+ and select it.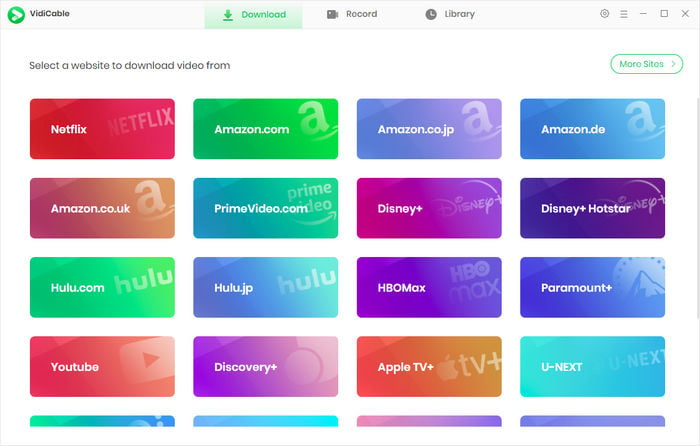 Step 2

Log in to Disney+

After clicking Sign In, a login page will be displayed, asking you to log into your Disney+ account. Log into your account to continue the next step.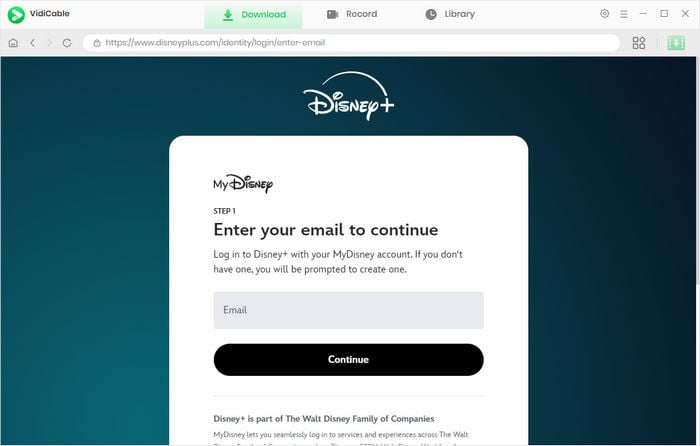 Step 3

Set Output Settings

Before downloading, you may click the Settings button, which looks like a gear on the upper right corner, and the Settings window will then pop up. You can choose the Output settings according to your habits.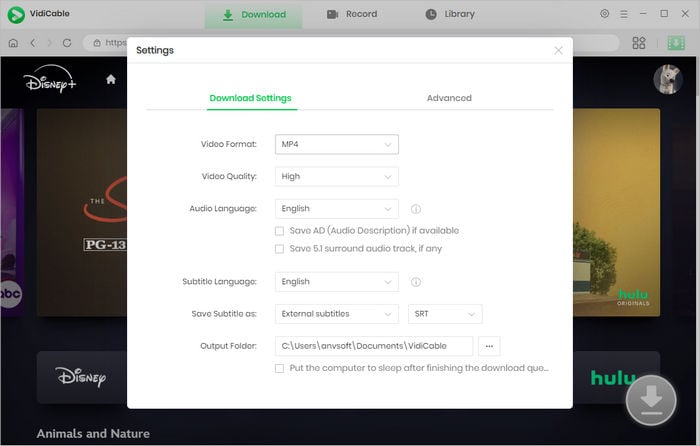 Step 4

Search for Videos

With a built-in Disney+ browser, VidiCable Video Downloader grants users the ability to interact with the software in a manner that mimics their usage on Disney+. To find your interested videos, you can enter the names of the videos in the search box. All related videos will be listed when you search them, and then you can choose the videos you want to download.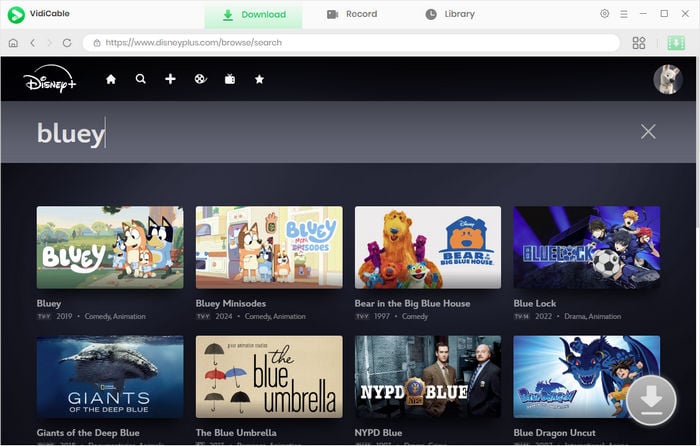 Step 5

Customize Advanced Settings

When you click on the thumbnail of the video, you will be taken to the page that provides detailed information about the video. Meanwhile, the download button in the lower right corner will transition from gray to green.

You can customize the quality, audio track, and subtitle of the videos as you prefer in the Advanced Download window. To download a TV show, you can just click the download icon, and a window will then appear, offering titles as well as seasons for you to choose. To set the audio track and subtitle, you can click the Advanced Download button on the left corner at the bottom. To download a movie, You can click the download icon to open Advanced Download window.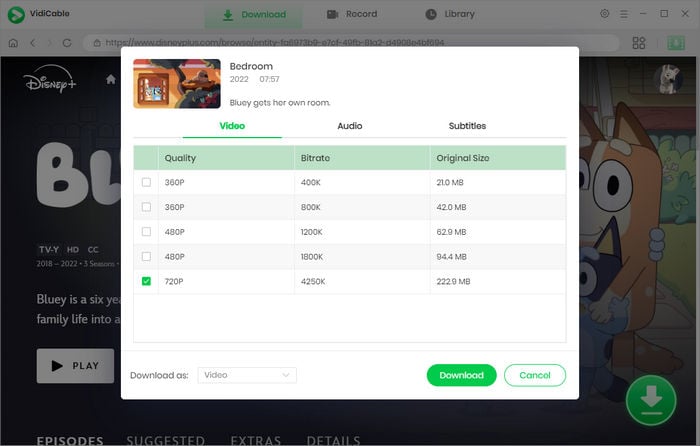 Step 6

Download Videos

Having finished the abvoe steps, all you need to do is to click the download button and the videos will be downloaded automatically. You can check the downloaded videos in the Library.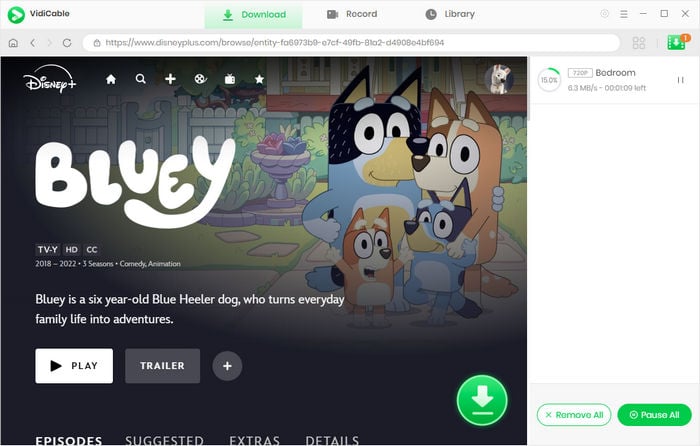 Step 7

Play Videos on TV

You can save the downloaded videos to your mobile devices and screencast them to your TV. Or you can save them to your USB and plug USB into TV port, find videos in the local storage and paly them on TV.
---
To play Disney+ videos on TV, we believe that VidiCable Video Downloader is the best choice for you. Specially designed with a concise interface and simple operations, it helps to download videos from different famous websites such as Disney+, Netflix, Amazon, YouTube, etc. with high quality and multilingual audio tracks and subtitles kept. Give it a try if you are interested.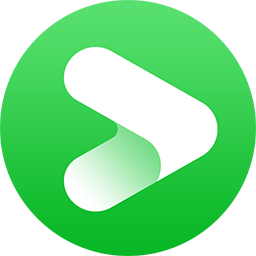 Get your favorite streaming movies& shows recorded right now!
Free Trial
Free Trial
Categories
Got another minute? Check out:
Cancel Disney+ membership and keep downloaded videos with VidiCable.